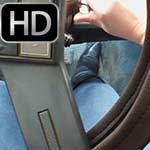 Scarlet Cranking the Monte Carlo in Boots with Vivian
January 7th, 2017
This is 3 different parts put into one clip of Scarlet having a hard time starting the Monte Carlo with Vivian. They're running around and doing some filming on this nasty day. In the first part, Scarlet is filming herself starting up the Monte Carlo while Vivian is inside. As Scarlet is struggling with the car (you're only seeing things from her POV looking down into the footwell), Vivian comes back in the car. She tells Scarlet it gave her issues earlier…imagine that! lol
The next segment is a short segment of Scarlet cranking the Monte at the gas station. I don't think Vivian is with her, Vivian might be inside the store. Scarlet even mumbles how embarrassing this is.
The last segment is Vivian filming from the passenger side as they're about to leave the house again. Scarlet is full body pumping in this segment, taking that gas pedal to the floor with her leather cowgirl boots. Lots of sputtering before she gets it started. She gives it some good romps of the gas to clear it out.
---