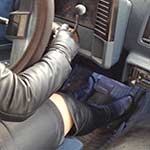 Scarlet Cranking Cars in Cowgirl Boots Compilation, 7 of 7
December 9th, 2017
Scarlet barely gets the Bug cranked before the battery dies in cuffed jeans and orang'ish-brown cowgirl boots.
Scarlet cranking the Jeep in black snip-toe boots but couldn't get it cranked up. She had to leave, so she took another car.
After filming a custom video, Scarlet needs to start the Monte Carlo up to clear it out and rev it up. She's dressed in full leather (jacket, skirt, gloves, OTK boots) and it's a great scene of her struggling with the car. The battery is weak, the car is flooded and she's trying her best but the battery dies.
---