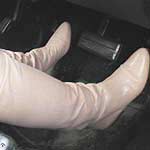 Scarlet Tan Riding Boots Crank & Drive Overheating
June 2nd, 2019
She wanted to take the Coronet to run some errands to get a little driving in with the old land barge. She starts the car and begins fiddling with the seat belt but doesn't pay attention to the engine and the car chugs out. She finally ignores the seat belt and tries starting the car again but it doesn't start. She tries it a few more times and it finally starts. She pulls out of the driveway and drives down the road to the gas station.
After getting gas, she gets in the car and goes to start it but it doesn't start. It takes a few tries before starting up and she's on the road again.
During our trip, we both start smelling coolant. The temperature gauge doesn't seem to work so I have her turn around and get home as quickly as possible without overheating the car even more. She gets the car back home before it got too bad.
---