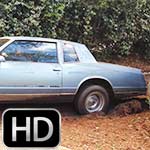 Scarlet Getting the Monte Carlo Unstuck So We Can Go
December 26th, 2020
We had that spot at our old house where we parked cars and when it would rain, the ground would get really slick in that area. We were heading out to run some errands and sometimes, when she parks the car there, she gets too close to the bushes on the passenger side so I have to wait for her to get it out so I can get in. I didn't start filming until after she tried a time or two to move the car and the wheels just started spinning. So hey, guess I should film this, right?
Some good rocking and struggling by Scarlet. You can tell she's done this before but still, it's a tricky spot.
Filmed all from outside. She was wearing some black over-the-knee boots on this day, sorry I didn't get a shot of that.
---