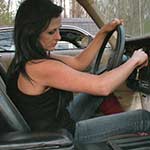 Star Evening Flirty Crank, Stall & Rev in Vintage Red Boots
April 3rd, 2018
She wants to show you how loud her car is with the messed up muffler. She revs the car until it sputters and stalls out. She pumps the gas with her little size 6 vintage boots over jeans. She does this little gasp when the car stalls again, almost like some kind of Disney princess whose carriage just broke a wheel. lol
She looks at you after doing some cranking and revving and says, "Don't think you can do a better job at this than me!"
This is her car and she'll show you how it sounds and how to crank it!
---