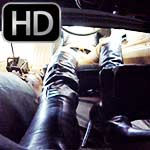 Vivian Struggles with the Camaro in Riding Pants & Boots
December 3rd, 2020
Vivian is anxious to head out but with the Camaro not starting for her, she's starting to get frustrated and extremely annoyed. The car sputters a lot and teases her but just won't start.
Various angles including behind-the-pedals.
Vivian is wearing a black leather blazer-style jacket, riding pants with leather inserts and black leather stiletto knee high boots.
---