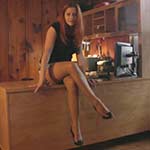 Vivian Ireene Pierce Cranking the Monte Carlo – #411
July 12th, 2015
Vivian is at your desk and on your computer…uh-oh, she found your internet browser was left open to www.PumpThatPedal.com!  She walks around the desk to sit on it and scold you for your desire to watch girls struggle starting a car and pumping pedals.  She looks so hot with her tan pantyhose, short skirt and patent stiletto pumps sitting on that desk with her legs crossed.  To your surprise, her scolding softens and she starts getting playful and flirty with you.
"If you wanted a girl to crank a car for you, you should have just asked." she tells you.
Next thing you know, she's leading you outside to the car to find out what it is you like about watching a girl struggle to start an old car.
---