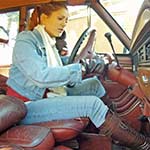 Vivian Ireene Pierce Can't Start Jeep to Go to Work
January 22nd, 2020
It's a pretty cold day for her Jeep because it's already cold-natured as it is. But with the temp getting below freezing last night, it can be a real pain to get it started. She's wearing a light denim jacket and jeans with a white scarf, brown leather lace-up boots and brown leather gloves. You don't have to be frumpy to be warm.
She gets in and tries for a while to get it started but seeing as how she's going to be late, she decides to call in to work to let her boss know what is going on. She gives him a description of what she's been doing to get it started and even gets in the car to try and get it started with him on the phone.
After some struggling with her boss on the phone, she manages to get it started and revs it up to get some heat into the engine so it'll hopefully not stall out. Maybe she can make it to work now.
---