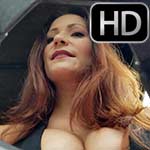 Vivian Ireene Pierce Sweet Talking & Cranking the Renault
February 5th, 2021
Vivian heads outside to see if the old 1987 Renault GTA will fire up. She's filming her boots as she walks up the driveway to the little convertible sitting there, waiting to be started up.
She gets in, pans the camera to her face so you can get a shot of this vest she has on that has her girls just about to pop out! She turns the camera down to her legs, feet and boots on the pedals as she sweetly says, "Come on baby." and tries starting the car. She softly pumps the pedal and turns around again and you get a great view of her chest and face as she cranks the car over again and again. With the battery pretty much dead, she keeps trying to start it while begging and pumping.
A very sexy and seductive cranking clip of Vivian struggling with the old Renault.
---