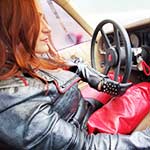 Vivian Red Leather Chaps Cranking & Stuck in Leather in the Z28
December 6th, 2020
An interesting video idea that was part of a series of customs where Vivian is my girlfriend and loves to play in the cars for me as well as cater to my boots and leather fetish.
The video opens with her red leather chap boots resting in my lap as we're both almost lounging in the old Camaro. It's raining and cold outside, so the windows are a little fogged up. She decides she wants to get the car started because she knows what I like and that is her trying to start these old cars. She gets situated behind the wheel and starts cranking the engine over to get the car started. It's flooded and won't start….oh darn! She teases for a while as I slowly rub her leg and rest my hand on her thigh while her leg and foot is pumping the gas pedal, trying to start the car. When she's finally able to get it fired up, she romps on the gas pedal a few times to clear it out and then tries to drive off but the car is stuck in the mud! She struggles with the car, trying to rock it free but it's not moving anywhere.
"Executive decision…we're going inside!" she says as the video draws to an end.
---