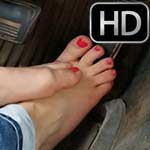 Vivian Ireene Pierce Pink Tee & Cuffed Jeans Cranks, Drive & Rev
February 14th, 2021
Gotta love it when Vivian wears one of those snug and low-cut t-shirts. 🙂
She bounces into the car, gets it fired up on the first try and does a little light, warm-up revving in her tan flip-flops with a black leather braided strap.
I thought that was going to be the end of that little snippet since it fired right up. I stopped filming to talk about where to go and the car conked out…doh! Back to filming!
The car flooded out a little and takes a few tries to get it going again. She then hits the road and kicks off her flip-flops after a short distance. Her pink toes work and petite feet work the gas and brake pedal as she zips us back to the house where she ends the video with some sexy hard revving.
---