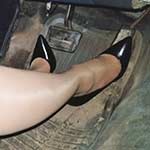 Vivian Ireene Pierce Night Time PP in Hose & Pumps, 1 of 2
October 12th, 2018
We've got to head to town and she's all dressed up, so why not take a crappy car and hope for car trouble? 😀
She's wearing a black leather jacket, red leather gloves a sexy and tight red dress, sheer pantyhose and shiny black stiletto pumps….now if that isn't a pedal pumping outfit, I don't know what is!
She fights with the car from the very beginning to get it started and even when it's running, it doesn't like to stay running. She gets it warmed up and cleared out and it sounds like she might be good to go, so she heads out. It stalls on her at the stop sign and stop light but she's able to get it going again without causing too much of a scene.
The rest of the video is a wonderful mix of her legs and shoes pumping the pedals cranking, revving and driving as she's just trying to make it to town and back.
---