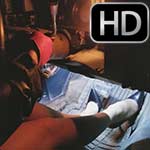 Vivian Ireene Pierce Night Time PP in Hose & Pumps, 2 of 2
November 2nd, 2018
Driving back home in the dark with her black leather pumps working the pedals and her red leather gloved hands gripping the steering wheel; it's a great sight to take in as she does some shoe dipping with her left foot knowing that you're intently watching her.
She takes her foot off the gas to hit the brakes for a curve and when she goes to push the gas she discovers the car stalled. She quickly pops it into neutral to spin it over, hoping it'll fire right back up but seeing as how it isn't she decides to ease it to a stop in a well-lit parking lot. She cranks the engine over and you can see the headlights dim from the burst of juice the starter needs when cranking the car. She softly begs the car, pumps the gas and after some work, she gets the car running again.
When she parks the car in the driveway, she ends the video with a little shoe/pedal play.
---