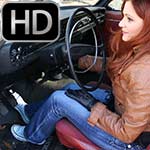 Vivian Cranking Volvo with the Jeep in Converse, 1 of 2
August 30th, 2017
This was one of those clips that wasn't planned. We were supposed to do a driving custom in the Volvo but the battery was dead. So, instead of letting the opportunity go to waste, I start rolling as Vivian uses the Jeep to jump off the Volvo.
It's a chilly day and the Volvo, after getting a juice-boost from the Jeep for a bit, doesn't want to start when Vivian gets behind the wheel to try and get it cranked up. She pumps with her light colored Converse sneakers, leather gloves with studs and brown leather jacket. It sputters some and exhaust shots show a bit of fumes/smoke coming from it as it shakes.
This first clip ends with her saying her right leg needs a massage from all the pumping.
---