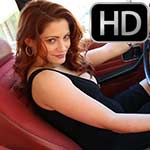 Vivian Ireene Pierce Little Black Dress & Sexy Heels Revving
October 25th, 2020
We have to get the Volvo moved to a spot that is better with the lighting as the sun is beaming right on the drivers side. She sitting in the Volvo and getting her strappy stiletto sandals on. They look sexy as hell paird with that black dress of hers!
Once she has the shoes on, she gets the Volvo fired up and does a little revving right there — aggressively stabbing the pedal.
Before she can move the Volvo she has to get the old Bug out of the way. She walks over, gets in and gets the Bug fired up and moved.
Now that we have the Bug moved, the Volvo moved, she can get back to what she wanted to do in the beginning: revving the Volvo!
---