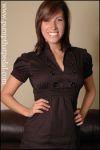 Shoe Size:  7
Favorite Type of Shoe:  pumps, boots, heels!!!
Smokes:  nope
Favorite Car:  Beetles, Audi TT, Jeep Wrangler
What cars do you or have you owned?
VW Bettle, Jeep Cherokee, Ford Probe, and Ford Contour
Worst Car Trouble Experience:
I've had so many!  I ran out of gas in the middle of a busy intersection.  I ran into a dead end and my radiator burst.  Then I've had a flat tire, and there was also the time where I ran up on a curb and my tire busted!
Joined PTP: January 28, 2009
From: Central Alabama
Birthdate: November 1, 1985