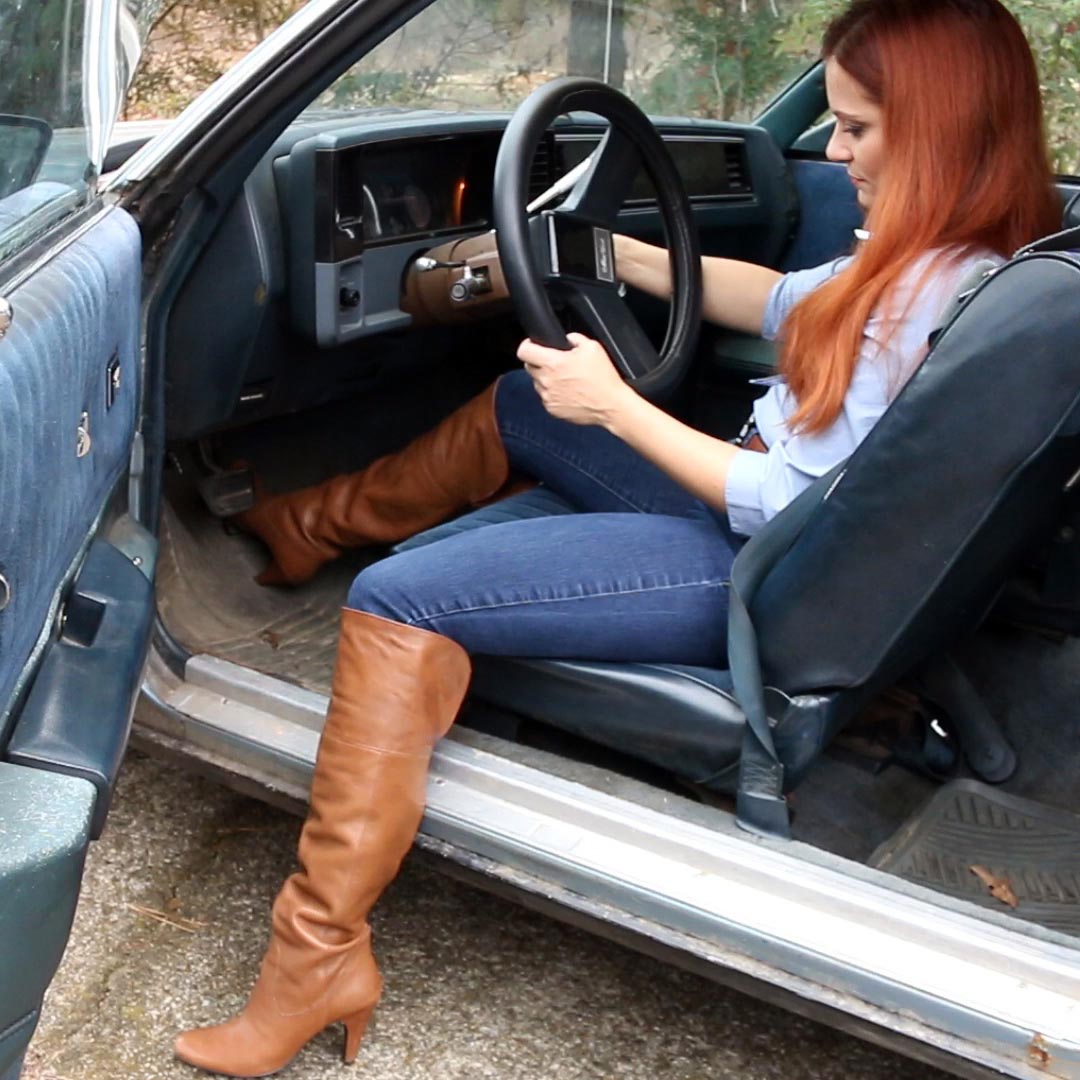 Customs Open for Vivian Ireene Pierce
October 11th, 2023
12/4 Update: That's a wrap! We're finishing up a few things tomorrow before she packs a few things to head back home for a month or so. She'll be back in late January or early February to continue with customs that we were not able to get to. If you currently have a custom submitted that you have not been invoiced for, hang tight and we'll get to those in the next shoot. If you change your mind and don't want your custom, just let me know so I can remove you from the queue.
All customs that have been paid for have been completed. If you have not received your link yet you will here soon.
It was a pretty eventful shoot, which I will try to get some teasers out this month. Quite a few cars need repairs before she comes back, so hopefully they can get taken care of in time. Camaro power steering pump is shot, she melted the Jeep starter cables, the Monte Carlo starter is shot, the Bug got some water in the engine, the Bus is who-the-fuck-knows. But on the other hand, she did get the Mercedes going and the Volvo is now drive-able again.
—
11/26 Update: A little technical difficulties at the moment. See the latest Youtube video for what I'm dealing with in regards to my monitor.

New cable is on the way, should be here Tuesday or Wednesday.
Vivian is already planning to come back in January to work on customs that don't get done this shoot. So if yours does not get done this go around, you won't have to wait too long for another chance at having your custom filmed. Exact dates will be posted later.
—
11/23 Update: Happy Thanksgiving!!
The Vivster and I will be doing a little work today because, well, we're workaholics or something like that.
A reminder: if you've paid for a custom and haven't heard from me yet, all is good. "No news is good news" and it means that yours is still going to be filmed, even if it does have to get shuffled around a bit due to weather, cars, etc.
If you submitted a custom script but haven't been invoiced yet, hang tight as we're working through the list. If you change your mind and don't want a custom, then please let me know so I can purge your script from the list. Otherwise, we'll get through as many as we can in the time I have with her.
—
11/17 Update: Haven't been able to update too much because I'm wore the hell out! lol We film, we eat, we get cleaned up, pull the footage off, try to answer some emails, get the updates done and by then, I'm barely able to stay awake and off to bed to rinse and repeat. We're working on everything though, having to do some shuffling around of the order due to cars and whatnot but we're working on them.
Paige is coming into town tomorrow and will stay the weekend with us so we can do some customs with her solo and some other content of her & Vivian together.
—
11/5 Update: Vivian will be arriving around the 10th and will spend as much time shooting as we have customs. So, if you want a custom or multiple customs, feel free to send them in and we'll knock them out.First batch of customs are already invoiced and ready to go.
Just a reminder of how things work in regards to customs these days is as follows:
Custom forms get filled out by you wonder folks and sent to me.
You'll be sent an invoice to pay.
(Optional) If I need to work out any details with you, I will contact you and we'll sort them out
Invoice gets paid and custom is locked in and gets lined up to be filmed. This also means I won't allow any changes to be made from this point on.
Once I get enough invoices paid that I feel is a good batch to start with, I won't invoice any more customs that have been submitted. If you submitted a custom but haven't received an invoice, hang tight, you're in a 'holding pattern'.
Paid customs get filmed during the course of shoot and emails will go out to individual customers when their customs have been filmed and when to expect them. Typically I just tell everyone within the 10-days I allot myself for ALL customs.
As customs get filmed and completed, I'll begin sending out new invoices for those people in that 'holding pattern' I mentioned in #4 and this will continue at a trickle until customs stop coming in or we run out of time.
Notes:
If you want to make changes to your script before you've received an invoice, you can but you will lose your place in line. If you've already received an invoice, any changes will need to be discussed with me first as the cost of your custom could change.
If you need to cancel your custom for whatever reason, that's fine, you'll be refunded the cost minus Paypal fees. This is because Paypal no longer refunds fees and expects sellers to eat the fees…twice.
Keep an eye on this blog post and the main page for any updates to customs and shoot scheduling. If you have a custom paid for, submitted and waiting to pay or are interested in the progress of customs, you'll get the latest and greatest here.
—-
10/15 Update: Had to reschedule this October shoot to November. Customs already paid for will be rescheduled for that time-frame, so you don't need to do anything else. I won't be invoicing any new customs until we get about a week out from her arriving.
—-
Please head over to her model page here to submit your custom video inquiry form.
---