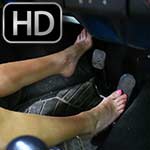 Gina Cranking the Bug Barefoot – #744
August 27th, 2017
Gina is giving a coworker a ride home. This coworker has a crush on Gina, so he's pretty excited that he gets to see her struggle up-close and personal! Gina kicks her shoes off and pumps the gas with her bare feet. She tells her coworker, as she's pumping, that she has to prime it before it'll start. So there's a hot segment of her tanned feet and polished toenails just pumping away on the gas.
She's a bit embarrassed and says, "I hope this doesn't weird you out."
Little does she know, it's quite the opposite!!
---