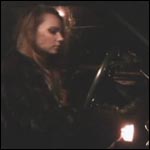 Snobby Gina Has to Chauffeur Herself?!
July 15th, 2010
This was a last minute video idea I had for Gina.  It was dark, I didn't use much lighting and it was cold out.  Gina plays a rich snobby lady who has to drive herself to the party.  She hasn't driven in a long while and the Caddy decides to not play nice.  She gives it attitude while trying to start it in her leather pants and gloves.
I liked the feel for this video and hope to improve on it in the future.  In the meantime, enjoy Gina being sassy in leather!
---