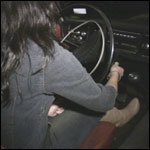 Hana Cold Cranking the Volvo at Night in Vintage OTK Boots
October 7th, 2012
Phone rings.  "Hello?", you say.
"Hey, sweetie, I'm on my way…leaving the house now.  Will be there in about 15 minutes.  I just have to crank my car and go. Bye!", Hana tells you.
Now, imagine this video is what you would see if you could miraculously be in two places at once. 🙂  Hana is freezing and ready to go.  Her old grocery-getter isn't cooperating.  It sputters, coughs and starts roughly but it doesn't ever clear out before dying again.  Is it out of gas?  Is the distributor wet?  She keeps cranking the car, trying to see if it'll eventually come around but no luck.
Phone rings. "Hello?!", you say.
"Come pick me up, my car won't…I think I flooded it trying to start the damn thing!", Hana tells you.
---