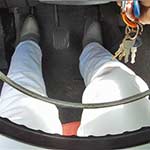 Hana Helluva Day Starting Cars in Gray Boots, 2 of 3
January 27th, 2021
That old Volvo is still giving Hana fits!
"Please start, start!!" she says.
While she's cranking, she's talking to herself at times, trying to figure out the problem.
"You can't be out of gas…I smell the gas!" she yells at the car during one of her breaks between the cranking.
"You're not out of gas, you're just being a temperamental bitch….gggaaaaahhh!!!"
After many more tries, she finally gives up. She gets out, closes the hood and goes to the Monte Carlo to try and get it started.
…many moments later….
"Turn over!" she says, as the saga continues.
---