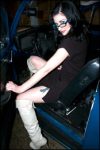 Shoe Size:  7.5
Favorite Type of Shoe:  I like heels & boots.
Smokes:  No.
Favorite Car:  pre'65 American
What cars do you or have you owned?  2006 VW Jetta, 1982 Volvo 240L
Worst Car Trouble Experience:  I was at a wedding reception and as I was getting ready to drive home, my light switch in my car broke off and I had to drive home with no brake lights and only high beams.
Joined PTP: February 28, 2011
From: Pittsburgh, PA
Birthdate: July 1975